Construction of Dubai's $68m Binghatti Stars 60% complete
페이지 정보
작성자

관리자

작성일

21-10-11 12:41 조회787회 댓글0건
본문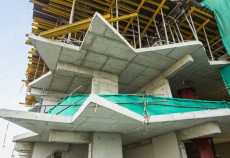 Four floors of the Binghatti Stars building in Dubai Silicon Oasis are completed each month.

 
Construction of Dubai's $68m Binghatti Stars 60% complete


Construction of the $68m (AED250m) Binghatti Stars has passed the halfway mark and the residential building in Dubai Silicon Oasis is now 60% complete, officials told Construction Week.
Structural work is done for several floors of the mid-rise "affordable luxury" property. With the main contractor on site, Granada Europe Construction (GEC), pouring a 2,300m2 slab of concrete every week to build a new floor, Binghatti Stars' main structure is on track to complete in the coming months, which will keep the project on track for a December 2018 completion.
Located in Dubai's first masterplanned smart hub, Dubai Silicon Oasis, Binghatti Stars will add to the 19 other Binghatti-branded buildings that are either finished or under construction in the first smart city community in the UAE.
READ: Construction of Dubai's Binghatti Stars on track for 2018 completion
As Binghatti Stars is compliant with Dubai's Green Building Code, more than 50% of the construction materials procured by the business, such as wood and steel, came from recycled materials. The company used suppliers such as RAK Ceramics, Grohe, Villeroy & Boch, Mitsubishi, ABB, Schneider, Siemens, and Bosch.
The 16-storey building has a rooftop garden, a heat-monitored swimming pool, a 'technogym', a children's play area, six retail units, two basement levels, and two podiums. The mixed-use property has 362 residential units available as studios, one-, two-, and three-bedroom apartments.
Due to rising consumer demand for the property, the building had to be redesigned from its initial 10-floor design.
The developer said is targeting residents that earn between $4,000 (AED15,000) and $8,000 (AED30,000) per month.