Work on $1.6bn Dilmunia Island project begins
페이지 정보
작성자

관리자

작성일

21-10-11 12:24 조회1,869회 댓글0건
본문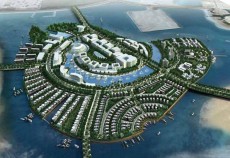 Work on $1.6bn Dilmunia Island project begins



The man-made Dilmunia island that has already risen out of the waters off the coast of Muharraq


RELATED ARTICLES: Firm wins $1.6bn Dilmunia infrastructure contract l Bahrain launches $1.6b Dilmunia Health Island bids l Bahraini hospital deploys asset management tech
Work on the $1.6bn Dilmunia Island in Bahrain has officially been launched at a ground-breaking ceremony attended by deputy prime minister Shaikh Khalid bin Abdulla Al Khalifa.
In March, CW reported that Ithmaar Development Company (IDC), subsidiary of Ithmaar Bank and developer of the man-made island, had awarded the first phase infrastructure contract to Cebarco Bahrain.
During the recent ceremony at the island site Shaikh Khalid unveiled a commemorative sculpture to mark the formal start of the first phase of infrastructure works.
Mohammed Khalil Alsayed, IDC's CEO, said: "I am delighted to announce that the pioneering Dilmunia Island has reached this critical milestone in its project development. This milestone has significant and far-reaching implications for the Kingdom of Bahrain. It will, for example, help create potentially thousands of new jobs both directly and indirectly, bolstering the Kingdom's key construction, real estate and tourism industries."
Dilmunia island, already out of the waters off the coast of Muharraq, has a health anchor, but will also include residences and retail in a resort-styled environment.