Four in running for AbuDhabi Midfield Terminal
페이지 정보
작성자

관리자

작성일

21-10-11 12:16 조회1,993회 댓글0건
본문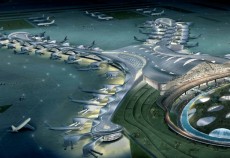 Work is epxected to begin on the MTB at Abu Dhabi International Airport soon

Four in running for AbuDhabi Midfield Terminal
by CW Staff on Mar 6, 2012
 
RELATED ARTICLES: Midfield Terminal project final bids due Tuesday | $3.2bn Midfield Terminal contractor to be named | Tender for Midfield Terminal Complex access road
Four consortia shortlisted for the general construction contract for the new Midfild Terminal Complex at Abu Dhabi's International Airport have submitted their best and final bids for the flagship project.
The 50m-high, 700,000m2 Midfield Terminal Building contract is one of the largest airport projects ever conducted. The six-storey, 1.1km-long building will have an opening day capacity of 27m passengers annually. The project will mean that the airport will be able to handle over 40m passengers when it opens in the first half of 2017.
The MTB will have 65 contact stands for aircraft; systems to deal with 19,000 pieces of luggage every hour and facilities to handle 8,234 passengers every hour. The MTB will also have eight airport lounges; 25,000m2 of food and beverage outlets and over 2km of moving walkways.
The four shortlisted consortia include:
Bechtel,ENKA and Al Jaber Group
Samsung, ACC and Six Construct
Hyundai Engineering and Construction, Kumho Industrial, China State and Al Shafar
TAV, CCC and ATC



Two other groups, including: Al Habtoor-Murray & Roberts-Hochtief; and L&T-NPC-Joannou & Paraskevaides (Overseas) fell out of the race for the project in February.

Construction on the enormous project is expected to begin during the second quarter of 2012, and the building operational in 2017.

A capacity enhancement program will help the airport to cope with growing demand until the new terminal building is complete. The project includes a new passenger arrival hall, bus gates, security screening facilities and additional A380-capable gates and stands.

Work is also underway on the East Midfield; a new 200-hectare support area that will include facilities for cargo handling, in-flight catering, ground handling and other ancillary facilities.