Dewan wins contract for Qatar Premier Inn project
페이지 정보
작성자

관리자

작성일

21-10-11 12:09 조회1,198회 댓글0건
본문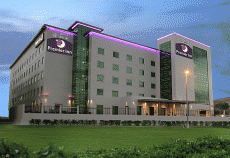 Premier Inn has a presence in the UAE, with hotels in Abu Dhabi and Dubai

 
Dewan wins contract for Qatar Premier Inn project
by CW Staff on Mar 7, 2012
RELATED ARTICLES: Dewan wins contract for Dubai retail scheme | Dewan to design Abu Dhabi airport hotel | Dewan wins Iraq holy city deals
Dewan Architects & Engineers has been awarded the consultancy contract to design and supervise the construction of the Doha Premier Inn Hotel at Education City, Doha, Qatar.
The four-storey, 200-key, 3-star hotel, is set to open in 2013 Education City master development in the west of the Qatari capital.
Mohamed Al Assam, founder, chairman and managing director of Dewan, said,"The project is more than just an inspired architectural __EXPRESSION__ of a comfortable and friendly hotel environment; it is a practical approach towards providing high standard services to guests through a careful selection of self-sustained venues within the hotel.
 
"The project is also Dewan's first project in Qatar as it ventures into this lucrative market and we are excited to enter this market together with a reputed client and group that we have successfully worked together with on two hotels in Abu Dhabi; at Abu Dhabi National Exhibition Centre and Abu Dhabi International Airport."
Dewan Architects & Engineers is a regional architectural and engineering design firm with offices in the UAE, Saudi Arabia, Iraq, Qatar, India, and the Philippines and with over 26 years of industry successes across GCC countries, Africa, Asia and the Middle East.
Premier Inn is the UK's largest and fastest-growing hotel brand with over 600 hotels and in excess of 46,000 rooms across the UK and Ireland. Premier Inn opened its first international hotel in Dubai in April 2008, a 308-key property in Dubai Investments Park, and has subsequently opened hotels in Dubai Silicon Oasis, Dubai International Airport and Abu Dhabi Capital Centre. A further property is under construction at Abu Dhabi International Airport, which is expected to be ready by early 2013.