Europe, oil may hit Korean exports
페이지 정보
작성자

관리자

작성일

21-10-11 12:07 조회1,182회 댓글0건
본문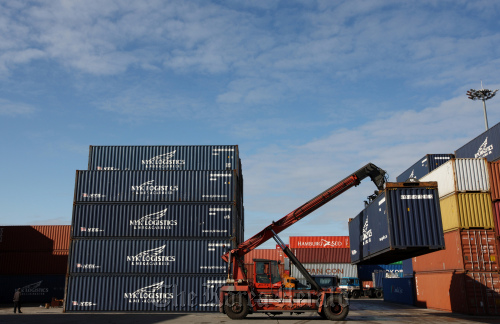 A straddle carrier moves a container at the Uiwang Inland Container Depot. (Bloomberg)


Europe, oil may hit Korean exports


A toxic mix of eurozone News ANALYSIS crisis and rising oil prices likely to hurt Korean economy


Korea's policymakers are headed for their hometowns during the Lunar New Year holiday with an assortment of concerns about the domestic economy.

The biggest concern is the negative outlook over the country's exports, which may be faltering faster than expected. For export-dependent Korea, this is an unsettling development, especially at a time when other external factors such as the eurozone debt woes remain as hostile as ever.

Minister of Knowledge Economy Hong Suk-woo Tuesday said Asia's fourth-largest economy might run a trade deficit in January, after enjoying 23 consecutive months of surpluses.

The culprit is the eurozone sovereign debt crisis, which is feared to weigh on external demand for Korean goods.

Korea's official dependence on the eurozone market is not fatally large, as the region accounts for 10.1 percent of the country's exports. But what matters is the quality of goods. Korea ships chiefly automotives, IT devices and ships to Europe ― items that traditionally attract more attention from policymakers due to their strategic importance. 

Ominously, while Korea's total export growth reached 19.2 percent last year, shipments to the eurozone went up by 4.1 percent.

A serious economic slowdown in Europe could hurt not only Korea directly but also the country's exports to China. Currently, 75 percent of Korea's goods shipped to China are classified as "intermediate materials" such as parts needed to build up a final product. Fewer foreign orders for Chinese finished goods, therefore, tend to reduce the demand in China for Korean components.

The Korea Capital Market Institute said on Wednesday that Korea's exports will halve to 10 percent this year, largely due to the worsening conditions in the eurozone.

The World Bank, in its report released on Tuesday, put out a dire warning of a possible global financial shock that is "similar in magnitude to the Lehman crisis," citing the risk that a major European nation might be shut out of debt markets.

A worse-case scenario in the eurozone crisis could pose a serious threat to emerging economies and global trade volume might drop 7 percent, the report said.

Aside from exports, another threat to Korea's economy is coming from the heightened tension between the U.S. and Iran, a geopolitical conflict that is sending the crude prices spinning in an unpredictable fashion in recent weeks.

Analysts said a major escalation of clashes between the U.S. and Iran could increase the crude oil prices further, which would quickly translate into a faster growth of consumer prices.

The Bank of Korea said that price hikes in the supply side, led by oil, fueled the overall consumer prices last year.

The Hyundai Economic Research Institute earlier predicted that protracted Iran-related instability could cut Korea's economic growth as low as 2.8 percent and boost inflation growth to as high as 7.1 percent ― a dreadful mix that may well be deemed as stagflation.